TRANSFORM YOUR SPACE
Southwest Greens made in the USA synthetic putting greens not only emulate the look, feel, and playability of natural grass but will also boost your Atlanta property value while perfecting your short game skills. Wondering about the cost of a backyard putting green? Explore the possibilities of Southwest Greens' cutting edge options, often ranging from $20 to $35 per square foot, depending on certain key factors.
1. PUTTING GREEN SIZE
While PGA greens span vast areas, you can improve your short game on a green made to fit the available space. Our pricing structure adapts to multiple sizes and is dependent on access. So, how much does a putting green cost? Here's a good example to begin planning:
2,000 square feet and above: $20 to $25 per sq. ft.
400 - 2,000 square feet: $25 to $30 per sq. ft.
Under 400 square feet: $30 to $35 per sq. ft.
2. GREEN TYPE
At Southwest Greens, we have a variety of golf greens made using state-of-the-art techniques and a wide range of artificial turf options. Tailor your outdoor putting green to your precise specifications and speed preferences with our premium-grade artificial putting green turf that mirrors the look and feel of organic grass.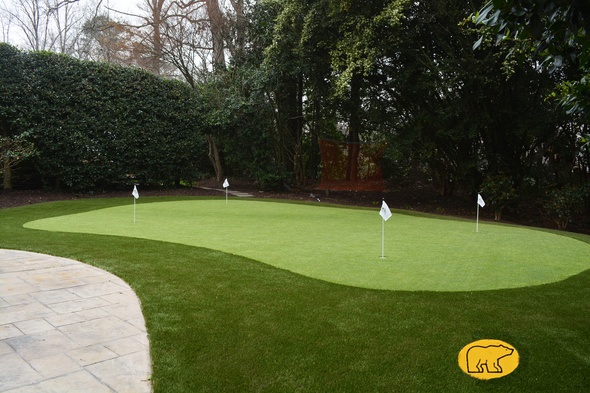 3. DESIGN EXPERTISE
The cost of your dream backyard putting green depends on its design complexity and required difficulty. Our experienced manufacturers and dealers are ready with the expertise to design and install the perfect putting green for you. For customers who want even more, we proudly partner with professional golfing design company Nicklaus Design to create a one-of-a-kind and professional golfing experience in your own Atlanta backyard!
4. SITE ACCESS
The accessibility of your location to our materials and machinery significantly impacts the cost of installation. If large machinery has to avoid obstacles that need more manual labor, expenses may increase. Additionally, the need for extensive grading and site preparation can impact the overall cost.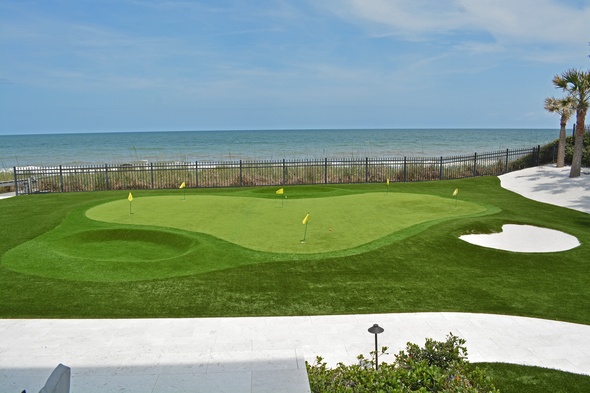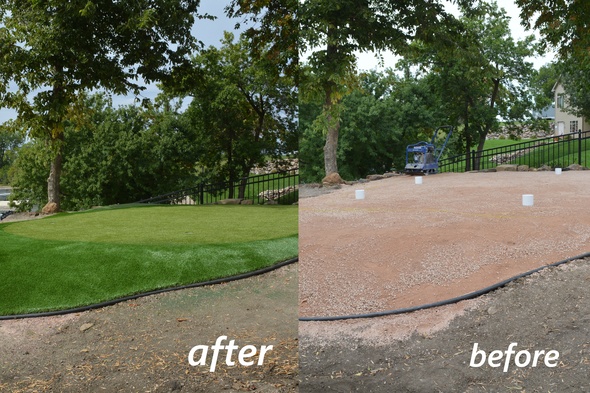 5. SITE PREP
Site preparation costs are not included in our square foot pricing. Removing existing grass or soil could be necessary, depending on your location. In areas with grass already present, this step is vital, while it might be minimized in dryer regions.
6. SPECIAL FEATURES
Dreaming of more than merely a backyard putting green? Think about the possibility of hazards, tee boxes, water hazards, and other upgrades to take your project to the next level. Adding these elements will naturally affect the overall project cost.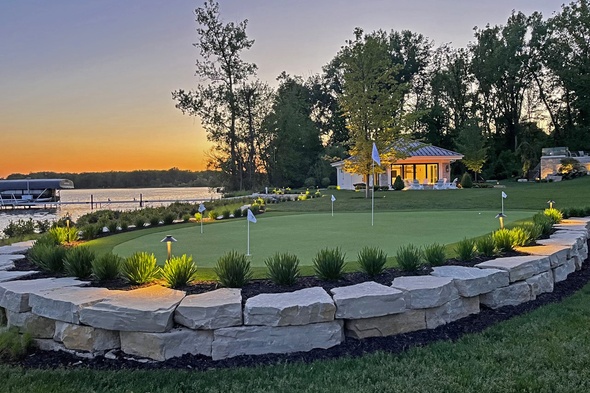 7. EXPERT INSTALLATION
With decades of in the industry, Southwest Greens has a remarkable reputation for superior golf turf. Our installation expertise is unparalleled. Installation costs change based on your location, landscaping demands, specific green attributes, and upgrades you wish to include.
READY TO ELEVATE YOUR GAME WITH SOUTHWEST GREENS?
Discover the limitless potential of your Atlanta outdoor space with a one-of-a-kind residential putting green from Southwest Greens. Contact us today for additional details, and let us give you the resources you need to make your backyard putting green dreams a reality. Get a quote today and transform your backyard into a golfer's paradise with Southwest Greens.